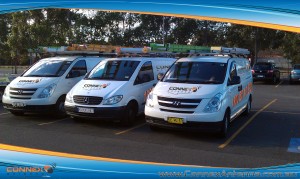 Connex Antenna is a mobile antenna installation service provider catering to domestic and commercial customers across Sydney. We ensure that our technicians are certified, trained and talented to provide any type of installation and digital TV services. Specialising in antenna installation and repair, we can fix any television reception problems instantly. Be it digital switchover, set top boxes, additional TV points, or home theatre installations services, our dedicated team is committed to work meticulously and achieve unparalleled outcome like no other.
Highly trained and tech savvy staff are our biggest assets. Experts in all aspects of audio and visual services, they efficiently handle TV installation. We are always on the run to reach you in greater-western Sydney or eastern suburbs or beyond to sort out any issues you are facing. When it comes to reliable and quality services, Connex Antenna is the name you can trust. Strictly complying with Australian standards and rendering superior workmanship, we have already established ourselves as the leaders in antenna installation sector. Our technicians always keep an eye to detail and continue to set the highest standards in the industry. With multi-talented technicians, state of the art equipment and unrivaled dedication, we offer impeccable services often exceeding your expectations.
We take every effort to be diligent and punctual. There's nothing worse than waiting around for a contractor to arrive. At Connex Antenna, we arrive on time, and get the job done quickly and efficiently. We guarantee fantastic delivery of service at the best price so that you don't have to settle for anything but the best service, and first-class reception.